This is how our client successfully added An Individual Provider to A Group; CMS 855R Form
After two failed attempts to add an individual provider to their group NPI, our client called us to help them find a solution.  They had already filled out the CMS Form 855B and the 855I, which both lead to a denial of their application.  At their wits end, they called and asked for our guidance.
Like our client, we too were unfamiliar with which form Medicare required to add an individual provider to a group, so we decided it was worth a phone call to CMS.  To our indulgence the CMS Representative was patient, understanding, and very helpful.  We informed her what our clients objective was, and she was gracious enough to take the time to walk us through filling out the correct form, an 855R Form, rather than the 855B or 855I.
Here is a link to the 855R in a PDF version.
The CMS 855R form can be a bit confusing, but here is how our client successfully filled it out.
When reading through the 855R is references 'Reassigning your Medicare Benefits", which is confusing and rather intimidating.  The term "reassigning" seems permanent, and doesn't provide you with the confidence to know this is the correct form to be filling out just to add an individual provider to a group.  But, it did help them achieve their objective.
This is how our client filled out the CMS 855R and 'reassigned' the individual provider's CPT's to the group.

Reassigning the benefits simply means that the provider who is doing the 'reassigning' authorizes an eligible individual or entity to submit Medicare Part B claims on behalf of, and receive payment for, the procedures the provider delivered while in their group setting.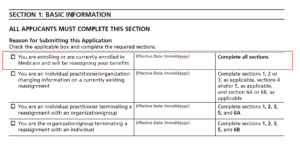 Filling out section one was pretty basic, but knowing which of the 4 options to choose is key.  They chose the first option.  They had one provider who needed to be added to the group, for only one of the practices two locations.  They added the date which corresponded with when the provider began seeing patients under the group.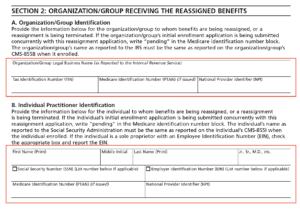 On Section 2A of the Form 855R, they filled in the organization's information, and on section 2B they filled in the Providers information who was 'Reassigning" benefits.
This is where you can Mail the Form 855R to: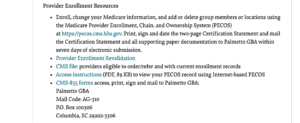 Through our phone call we learned that you can mail via "snail mail" to the above address, and CMS will process the request in 14-35 business days.  This does not include the time it takes to mail the form, and for it to reach the processors desk.  If you wanted to overnight the 855R, you can, but you will have to send it to a different address.
Here is where you send the CMS Form 855R to if you want to overnight it.

According to our representative; you can cut the processing time down to 7-10 Business days by sending the 855R 'overnight' to this address.  According to CMS, the processing time starts when CMS receives the form, not when the form is mailed.
The fastest way to add an Individual Provider to a Group
Using PECO's to process your application.

According to our call with CMS, If you wanted to complete the Medicare Form 855R electronically you can do so on the PECO's site.  Filling it out on PECO's not only cuts down the processing time to one week, but it eliminates all mailing, sorting, and 'getting to the right processor' time.  If you feel comfortable adding your individual Provider to your Group, and need it completed as quickly as possible, then your best bet is to fill out the 855R on the PECO's site.
We hope this saves you time by not having to call CMS to learn which form to fill out to add an individual provider to a group practice.  We hope that learning what worked for our client will provide you the guidance to successfully submit your CMS Form 855R correctly, the first time.
Keep in mind, it is possible that what worked for them, may not provide you the same outcome.  They could have had a new CMS Employee who processed their application in error or maybe they simply felt bad for them, due to the 2 previous denials they received.  Nevertheless, it did work for them, so we hope this post provides you with value and the ability to cut your waiting time down.