How to sell a medical practice where everyone wins.
So, you've been in practice for yourself for many years and now you're looking to sell your medical practice it and embark on that round the world sailing trip you've been planning for most of your adult life.
Or, maybe you're fresh out of Medical School and you're looking to put a group of investors together to buy that future sailor's medical practice out.
Anyway it goes, you need to properly assess the value of the practice.  The future sailor looks at the value from the perspective of "how much do I need in order to maintain my current living standard for the next X amount of years", rather than what is the true intrinsic value of this practice.
The investor sees it as; How can we get this below market value, to be in a good starting position to build a robust cash-flowing enterprise.
So, the parties have to meet somewhere between the 'emotional' value the Sailor has and the 'fire sale' value the investors have.
How do we establish this "Middle Ground" of Medical Practice Valuation.
For a middle ground to exist, each party must consider the other party's perspective.  That's challenging when you have one party who has sacrificed things like; missing kids ball games, vacations, marital bliss, and other family commitments which were traded in order to build this business over many years.
If we stop and look at this medical practice and imagine, what if they were in the widget production business instead of delivery of medical care business.   Evaluating the production costs of a widget will allow us to look at the raw expenses to better evaluate potential profit.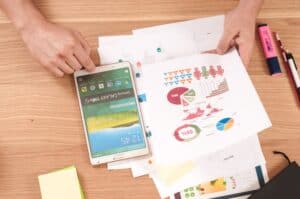 What are the fixed costs; like the raw material costs, the use of the machine to make the widget, and the cost to employ a press operator to run the machine used to make the widget.
Then we have to analyze the value that creating the widget provides to the market.  Will, creating this widget be a means of opening up doors in the future to create similar widgets.  Will creating this widget allow us to not create a different widget that has a significantly lower profit margin.  If you're looking for ways to fine tune the profitability of your practice, here is a great post that may help.
But, how does widget production relate to the selling of a Medical Practice?
The process is the same, only the Fixed Costs and the Value Added Variables change when talking about Widgets and Medical Practices.
The Medical Practice has fixed costs like, Employees, rent, supplies, and insurance.  The Medical Practice also has Value Add components.  Like; is the provider on the other side of town getting ready to retire too, and we would end up getting all his patients.  Do, we have a better billing process that can immediately impact the cash-flow in a positive manner, than the one the current owner has in place?
So, by taking the "Widget Analysis" approach to evaluating the Medical Practice will provide a wholistic view of the potential this investment my provide.
When you're analyzing the value of a Medical Practice you're interested in purchasing, make sure to give these 3 things a great deal of consideration.
Does the Buyer or the Seller get paid for the Medical Practices Accounts Receivables.
Who assumes the Accounts Receivables?  If you're the buyer and you're going to assume the Receivables, it's imperative you understand, that adjustments are still going to be taken out of those insurance payments when the insurance company pays the claim.
So, you may want to calculate an average overall "Adjustment Rate" from all insurance payments made in the prior year, then apply this number to the Insurance Aging balance.  This should be your starting point for determining the true value of the Aging.  Check out our previous post on Analyzing a Medical Practices Aging for help in understanding the make-up of an Aged Trial Balance.
What is Unemployment Rate of the municipality the Medical Practice is located in?
Consider the prospect of growing your patient base by analyzing the municipalities unemployment rate.  If it's above the National Average, this may be a red flag.  Here is a site I like to use to analyze  unemployment rates.
Study what the future holds for the town, are they getting ready to build a manufacturing plant near the practice you're analyzing?  Or, are they closing one down.  This is one of those value add components, and the answer to this will help you determine if this practices future looks bright or if it looks dim.
If you have a community with a large manufacturing plant, that means you'll have a good deal of patients with a qualified insurance plan, who will need your services.  Here are some other things to consider when analyzing a potential market for your practice.
If they are closing one down, this could significantly affect your patient base.
Hire an independent auditor to perform a business valuation.
As the buyer, if you're getting ready to make a large financial investment in a Medical Practice, it would be prudent to have an independent person or a company perform a business valuation.  As the seller, it too would be advantageous to have a third party perform your own valuation, that way you gain a better bargaining position.
It also helps make the process run smoother, because it removes the parties who are emotionally tied to the outcome of the deal.  As the seller or the buyer, spending good money with a qualified and seasoned auditor, will pay handsome dividends for both parties in the end.
As the buyer, if you're planning on getting a loan for this investments, it's highly likely the bank will require an independent valuation be completed.
Typically CPA's, attorneys, and Business Consultants, have the tools and know how to perform a Business Valuation.
Oh, and then there is the little thing called 'Restrictive Covenant'
If you're the buyer, and you want to avoid any chance the seller would open a new clinic next door, you'll likely want to have a Restrictive Covenant in place.  And, Restrictive Covenants fall under these 4 subsets:
1.  A non-competition provision which prohibits a former employee from competing against his or her former employer within a particular geographic area for a specified period of time.
2.  A non-solicitation provision prohibits a former employee from soliciting its former employer's current, prior, or prospective customers for a specified period of time.
3.  An "anti-raiding" provision prohibits a former employee from soliciting the former employer's employees, for example, to work at a competing business.
4.  A confidentiality agreement prevents a former employee from disclosing or using the proprietary or confidential information of his or her former employer, or that of its employer's customers.
These are certainly not the only considerations when evaluating whether or not to buy a Medical Practice.  Currently, there are a lot of providers looking to retire, and the patient demand has seldom been higher.  So, it may be an ideal time to buy that small practice you've been keeping an eye on for many years.  What are your thoughts on buying a Medical Practice?
Photo by William Iven on Unsplash